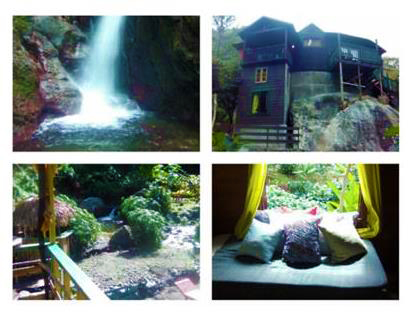 The beautiful Rafjam situated in the hills of Irish Town a 30 minute drive from Papine in Kingston, makes a great get away with friends, family or that special someone. Rafjam is owned and operated by the kind, loving and friendly soul, Susan de Campos Palmero along with Rafael de Campos Palmero.
Rafjam, a mini paradise hidden away in the hills of Irish Town; the clean fresh air and relaxing sound of the river give you a sense of peace and happiness. One can safely say Rafjam is your vacation home away from home. The staff is friendly, welcoming and they make you feel right at home.
Taking a walk through the lush Gardens of Rafjam, following the path to the waterfall makes a great afternoon stroll into a wonderful one. Even before you enter the gate of Rafjam, the surroundings in on itself feels like paradise. The grounds are filled with trees, flowers and animals for our nature lovers.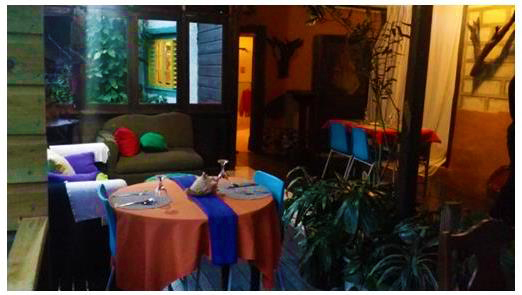 One of the things I love most about Rafjam is the accommodating staff; there is never a dull moment with them. The rooms are beautiful, the interior designs on the walls; perfection. My favourite place of all at Rafjam is the Cabin. Stone walls, wooden floors, high rise above the river, cool breeze coming in, can you feel it as yet!? At Rafjam all your problems disappear and Mother Nature takes over. Taking a dive into the river is always a daring one, but take my advice don't think about it just jump in, after a few seconds you will forget how cold the water was. I remember my first time going into the river pool, it took my friend and I one whole day before we went in, why, we spent too much time thinking about how cold it was after dipping our feet into the river. We decided, hey, let's not think about it and just jump in. So we did, and it was the best day of our lives, laughter filled the air, we had a blast that day, who knew cold water could feel that good.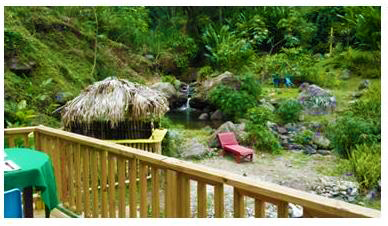 Rafjam also has a Spa for all your relaxation and beauty needs. Let's not leave out the bar and relaxing porch setting where you can sit and enjoy some music, breakfast, lunch, dinner or just have a drink, chat and laugh. You can also relax in the hammock; I'm sure once you get comfortable you will be in dream land. Once again the sound of the river, cool breeze, trees singing sweet melodies with each other, chirping of birds, this more than perfection.
The location, the setting, the design, decor, the people, what more could you ask for in a vacation or get away spot, Jamaica has a lot to offer, on your next trip to the island or if it's your first time, head on up to Irish Town and ask for Rafjam "Paradise hidden in the hills," I guarantee you will have a fabulous time and will be wanting more.